.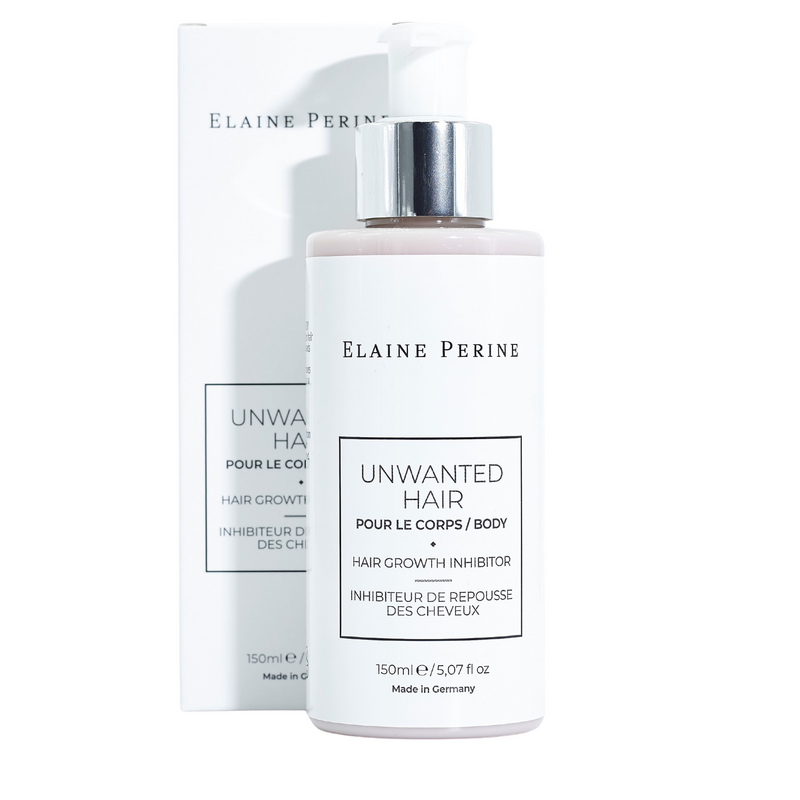 Body hair growth stop cream 150ml
Our body hair removal cream - smooth skin in no time

Body hair is quite normal - we all agree on that. What we do with it is up to us. For women who want to say a final "goodbye" to the little hairs and get rid of body hair, there is our highly effective depilatory cream for body and legs. It is a skillful alternative to conventional methods - completely painless and a permanent body hair removal. Say goodbye to annoying hairs and say "hello" to smooth skin. 

✓ Inhibits hair growth by up to 72%.
✓ Suitable for any part of the body
✓ Purely natural and plant-based active ingredients.
🌱 100% vegan, purely natural active ingredients and suitable for all skin types.

Waxing, lasering, shaving - there is generally no shortage of hair removal methods. But when it comes to budget-friendly, commercially available products, the options are somewhat limited after all. You can try at-home waxing kits, but it takes a bit of practice to get the hang of it. Not to mention that it takes a strong will to painfully rip a waxing strip off your body. In fact, it's not for everyone. Wouldn't you like to get rid of your unwanted hair easily and without pain? Then our Unwanted Hair body cream is just what you need! With our vegan hair growth inhibitor, you can save yourself the hassle of hair removal forever. With regular use, the purely natural active ingredients of our Hair Stop Body Lotion reduce, weaken and delay hair regrowth considerably. For radiant, soft skin, smooth as a baby's bottom!
The
hormone-free formula
contains carefully selected,
purely natural and plant-based active ingredients
. It works by changing the structure of the hair follicle and weakening it. This slows down hair production. The hair minimising ingredients work by slowing down the regrowth of hair at the root:
Willowherb: Contains high concentrations of proline, which
inhibits the formation of keratin and helps to inhibit the regrowth of body hair.
Saw Palmetto: Acts as a natural testosterone inhibitor and thus reduces body hair.
Pumpkin seed extract: Has an anti-androgenic effect. Anti-androgenic factors inhibit hair growth.
Easy to use:
Remove your body hair by shaving, waxing or other hair removal methods*.
Apply 1-2 pumps of the cream thoroughly to the area to be treated.
Massage until the cream is completely absorbed.
Over time, the hairs will become weaker and less dense until they eventually disappear completely.
For best results, use the cream 2 times a day, after showering and before going to bed.
Contents: 150ml
* After prolonged use of the cream, the effect is continuously enhanced.
** Dermatologically tested. Laboratory test showed no allergic reactions or skin irritations in the entire test group. ("In 30 subjects, the results of patch tests were negative (-), which means that the product does not cause irritation or allergy reaction in those subjects.", Aleksander Wroński, MD PhD).
*** The effectiveness of our Hair Stop Body Cream improves when hair is removed at the root. Shaving your body hair also works, but gives slower results.
By the way:
It is perfectly normal for us women to have body hair.
Removing it is your choice! Take your time to think about it. There are millions of ways to feel beautiful. No matter which way you choose, beauty is in the eye of the beholder.
Find out what suits you and what makes you feel good!Our hair growth inhibiting body lotion is for you if:
You don't feel like going for regular hair removal.
You are tired of shaving all the time.
You are unhappy with your body hair or suffer from it.
You are very busy and don't have time to remove your body hair regularly.
You want effective and long-lasting results even after hair removal treatments such as sugaring or waxing.
You want a painless, vegan & hormone-free way to permanently reduce annoying body hair.
Aqua, Glycerin, Paraffinum Liquidum, Cetearyl Alcohol, Dicaprylyl Ether, Propylene Glycol, Alcohol, Ceteareth-20, Dimethicone, Stearic Acid, Ceteareth-25, Panthenol, Serenoa Serrulata Fruit Extract, Epilobium, Angustifolium Extract, Cucurbita Pepo Seed Extract, Sodium Hydroxide, Carbomer, Phenoxyethanol, Ethylhexylglycerin, Parfum