.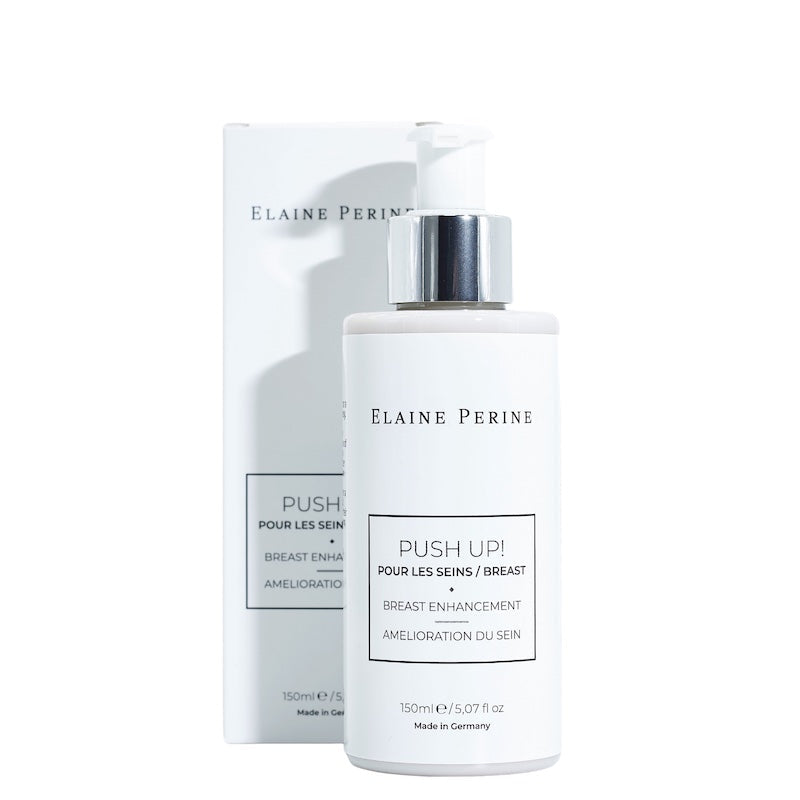 BREAST ENLARGEMENT Cream
When it comes to skin care, our breasts are often neglected. We want to change that once and for all with Push Up! cream. The cream with volumizing Commiphora extract, moisturizing Aloe Vera and cell-rejuvenating Vitamin E was developed by us to tighten, plump and firm the delicate skin of the bust and décolleté and help your girls fight gravity - and it's all natural, 100% vegan, completely painless and without side effects!
✓ Breast enlargement without surgical intervention.
✓ Symmetry for asymmetrical breasts 
✓ Tightening after pregnancy, weight fluctuations or skin aging.
🌱 100% vegan, purely natural active ingredients and suitable for all skin types.
BREAST ENLARGEMENT Cream 5.07 oz
Our breasts are undoubtedly an adornment of us women. They vary in shape, symmetry, shape and size. Even if we don't like to hear it, they are influenced by gravity. Some sag a little, some nipples point downwards (so potential babies can reach them better) and many natural breasts are elongated rather than round. They are also not always quite symmetrical or exactly the same shape. No matter what size, or shape your breasts are, they are perfectly normal, natural and great! However, it is not to be ignored that the texture of our breasts can have a negative impact on how we feel about our bodies. Whether they naturally have very small breasts, or feel uncomfortable because sudden weight fluctuations, the menstrual cycle or pregnancy have left their mark on their bust, many women feel unattractive because of their breasts and long for a visual change. With our Push Up! cream, we have found a painless, non-invasive way to help women feel more confident about their bodies through such a change!



The core secret of our Push Up! cream / breast enlargement cream lies in one of its active ingredients: Commiphora extract, an essential oil extracted from the guggul plant (Indian myrrh). The extract has been used in Ayurvedic medicine for thousands of years and is able to stimulate fatty acid synthesis, which results in an increase in the size of fat cells. In our Push Up! cream, the extract causes a natural activation of the breast tissue, resulting in an increase in breast circumference of 2 to 4 cm.* To achieve this effect, the cream must be applied continuously 1-2 times a day. The effect of our cream is completely natural, hormone-free and free of side effects. In Ayurvedic medicine, Indian Myrrh is even said to be effective in maintaining healthy tissue, as well as stopping the abnormal growth of cells.

Our breast enlargement cream gets your girls in shape with just 4 all-natural ingredients:

Indian Myrrh: Locally enlarges cells to plump up the breast from the inside out.
Almond oil:

 

Has an antioxidant effect. Antioxidants have a rejuvenating effect by protecting vital cell structures.
Aloe Vera: Has an anti-inflammatory, moisturising and anti-aging effect.
Vitamin E: Has cell rejuvenating and protective properties.
Easy to use:
Apply 1-2 pumps of

the cream

to each breast daily, morning and evening.
Massage the cream in circular motions (clockwise for the right breast and anti-clockwise for the left breast).
Then continue massaging in upward motions, extending the massage from your breasts to your décolleté until the cream is fully absorbed.
Because of the non-sticky formula, you can get dressed immediately after application.
Remember that our Push Up! cream stimulates the breast cells locally. Therefore, it must be applied continuously even after the desired results have been achieved. Interrupting the application may result in the loss of the acquired volume.

Contents: 150ml / 5.07oz

* A volunteer study of women aged 18 to 43 years has shown that after 6 weeks of daily use of Commiphora, breast volume increased by an average of 2- 4 cm. The volume may vary as each person reacts differently to the product. (Rocquet, C.; Reynaud, R.; Dr Sousselier, L.; Soliance and, France, 2007. Innovative Global "Age-Defying" Strategy, Active Ingredients. Cosmetic Science Technology: 119-125.)


Our Push Up! cream is for you if:

You want a painless, natural breast enlargement without surgery.
Your breasts are not symmetrical (use only on the smaller breast).
You want firmer breasts (after pregnancy, weight fluctuations or due to skin ageing).
You are looking for vegan breast care with an anti-ageing effect.
Aqua, Dicaprylyl Ether, Glycerin, Cetearyl Alcohol, Paraffinum Liquidum,Propylene Glycol, Ceteareth-20, Dimethicone, Commiphora Mukul Resin, Extract, Caffeine, Stearic Acid, Ceteareth-25, Caprylic/Capric Triglyceride, Sodium Hydroxide, Carbomer, Phenoxyethanol, Ethylhexylglycerin, Parfum