.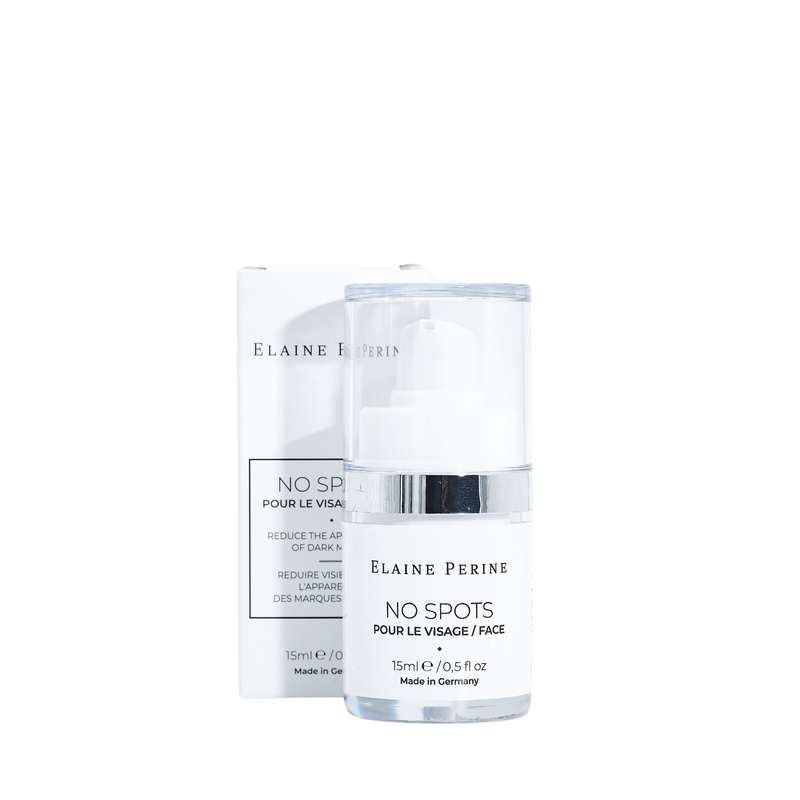 Facial hyperpigmentation cream
NO SPOTS Anti-Pigment Spot Cream with Vitamins C & U.P.A
An even complexion looks fresh and radiant, which is why many women find pigment spots annoying. But what helps with hyperpigmentation and how do we treat hyperpigmentation? To counteract dark spots, hyperpigmentation, age spots, freckles, melasma, scars or skin fading, we have developed a facial serum for pigmented skin especially for you that works quickly and is also very natural.
✓ Makes pigmentation disappear and prevents the formation of new dark spots.
 ✓ Works against hyperpigmentation, melasma, scars, freckles, age spots and other skin discolourations.
 ✓ Deep-acting formula contains vitamin C, white mulberry, cucumber seed and hibiscus flower extract.
✓ Hydrates the skin, stimulates cell regeneration and delays the skin ageing process - all without harmful chemicals.
 🌱 100% vegan, purely natural active ingredients and suitable for all skin types - no side effects
✓ The best serum for hyperpigmentation.
What causes hyperpigmentation?
Facial pigmentation or on other parts of the body are caused by melanin, the substance that has the greatest influence on skin discolouration. If you have a fairer complexion, your body is likely to produce less pigmentation than people with a darker skin tone. Pigmentation disorders can appear as white or brown/dark pigment spots anywhere on your body. Especially if you sunbathe a lot, the likelihood of pigmentation spots increases. But pigment spots also occur frequently in old age.
Caution: Have your doctor take a look at your pigmentation disorders if you see or feel the skin discolourations more clearly. You should also talk to a doctor about itching, a change in shape or an increase in the appearance of age spots, so they can do a hyperpigmentation treatment.
However, most pigmentation disorders are harmless and purely cosmetic. You would like to have a uniform complexion and ask yourself: What helps with pigmentation? Then we have the answer for you here!
Effect: How does hyperpigmentation go away and what really works?
Hyperpigmentation removal face in a natural way - that is now possible. Elaine Perine has studied the subject intensively: The result is our skincare for hyperpigmentation, the best products for hyperpigmentation, which remove pigmentation spots and even prevent the development of new pigmentation disorders on the face or other parts of the body. NO SPOTS Anti-Pigment Spot Corrector with Vitamins C & U.P.A is a natural and vegan anti-pigment serum that moisturises the skin, stimulates cell regeneration and delays the skin ageing process. Vitamin C and Undecylenoyl Phenylalanine (U.P.A.) lighten and even out skin discolouration - at the same time they counteract the formation of new hyperpigmentation. The unique formula also lightens and reduces scars such as pimple marks or pockmarks. The skin care against pigmentation spots enables you to have an even complexion and works against impure skin at the same time.
The deep-acting formula of the pigment serum for discoloration contains purely natural and plant-based ingredients. Cucumber seed extract soothes and protects the skin with its antioxidant and anti-inflammatory properties. The white mulberry, hibiscus flower extract and alpha-arbutin have very clear goals: Lighten pigmentation spots and inhibit the production of new melanin. The Undecylenoyl Phenylalanine (U.P.A.) prevents the formation of new pigment spots, while the Vitamin C ensures an even skin tone. Try our facials for hyperpigmenatation!
Application: How and when should I use the anti-pigment spot cream?
The hyperpigmentation serum should be used twice a day - morning and evening - after cleansing the face. We recommend applying a hazelnut-sized portion of the serum for dark spots and pigmentation to the palm of your hand and then massaging it into the skin in a circular motion. To lighten or even completely remove pigmentation spots, the serum for pigmentation should completely cover the heavily affected areas. For best results, use the hyperpigmentation products regularly. You will see the first results after only three weeks. With continued use, the results will improve and your pigmentation spots will become less visible.
To support your skin care against pigmentation spots, we offer you matching face serums for discoloration. For even more care, you can also buy our products in practical facial care sets. Treat your skin with Elaine Perine at any age - and through all skin layers

Aqua Glycerin Glyceryl Stearate SE Dicaprylyl Ether Ethylhexyl Stearate Alpha-Arbutin Propanediol Undecylenoyl Phenylalanine Isopropyl Alcohol Triethanolamine Allantoin Hibiscus Sabdariffa Flower Extract Morus Alba Bark Extract Cucumis Sativus Seed Extract Acrylates/Vinyl Isodecanoate Crosspolymer Lauryl Glucoside Polyglyceryl-2 Dipolyhydroxystearate Glyceryl Polyacrylate Hydroxyethyl Acrylate/Sodium Acryloyldimethyl Taurate Copolymer Polysorbate 60 Sorbitan Isostearate Phenoxyethanol Ethylhexylglycerin Sodium Benzoate Potassium Sorbate Citric Acid Parfum Citral Limonene