.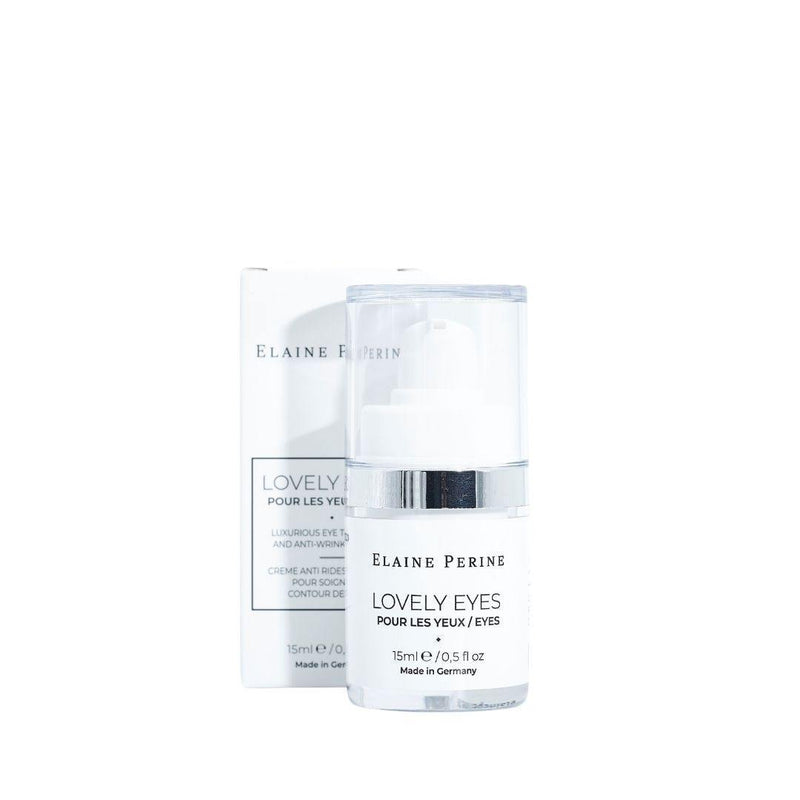 OCCHI BELLI - crema antiroughe per gli occi
Our Elaine Perine Lovely Eyes eye cream is designed to specifically minimise fine lines and wrinkles around the eyes, as well as reduce puffiness. With our eye cream, you won't be disappointed - on the contrary: through its highly effective active ingredients, it will make your eyes sparkle!
This carefully formulated complex delivers clear and immediate results:
✓ Vegan, cruelty-free cream against dark circles, bags under the eyes and puffy eyelids.
✓ Makes fine lines, wrinkles and crow's feet disappear.
✓ Provides a rested and fresh look.
✓ Lets your skin appear well nourished and regenerated.
✓ Is very well suited for sensitive skin.
ELAINE PERINE LOVELY EYES ANTI WRINKLE EYE CREAM
La crema occhi ELAINE PERINE LOVELY EYES riduce le linee sottili e le rughe e diminuisce le borse e le occhiaie. La crema occhi e antirughe altamente efficace fornisce alla pelle sensibile sufficiente idratazione e vitamine e la nutre dolcemente.
+ DETTAGLI
Supporta la proliferazione fibroblastica e la sintesi della matrice extracellulare.
sintesi della matrice extracellulare.
+ APPLICAZIONE
Per i migliori risultati, applicare la crema una o due volte al giorno.
+ EFFETTI
Proteina di soia glicina (soia), proteina di riso idrolizzata, superossido dismutasi
acido ascorbico 3-O etilico
Palmitato di retinile
Aqua Glycerin Pentylene Glycol Dicaprylyl Ether Niacinamide 3-O-Ethyl Ascorbic Acid Sodium Hyaluronate Glycine Soja Protein Hydrolyzed Rice Protein Superoxide Dismutase Acrylates/Vinyl Isodecanoate Crosspolymer Tocopheryl Acetate Simmondsia Chinensis Seed Oil Retinyl Palmitate Allantoin Triethanolamine Parfum Helianthus Annuus Seed Oil Tocopherol Lauryl Glucoside Polyglyceryl-2 Dipolyhydroxystearate Phenoxyethanol Ethylhexylglycerin Sodium Benzoate Potassium Benzoate Sodium Dextran Sulfate Limonene Linalool