.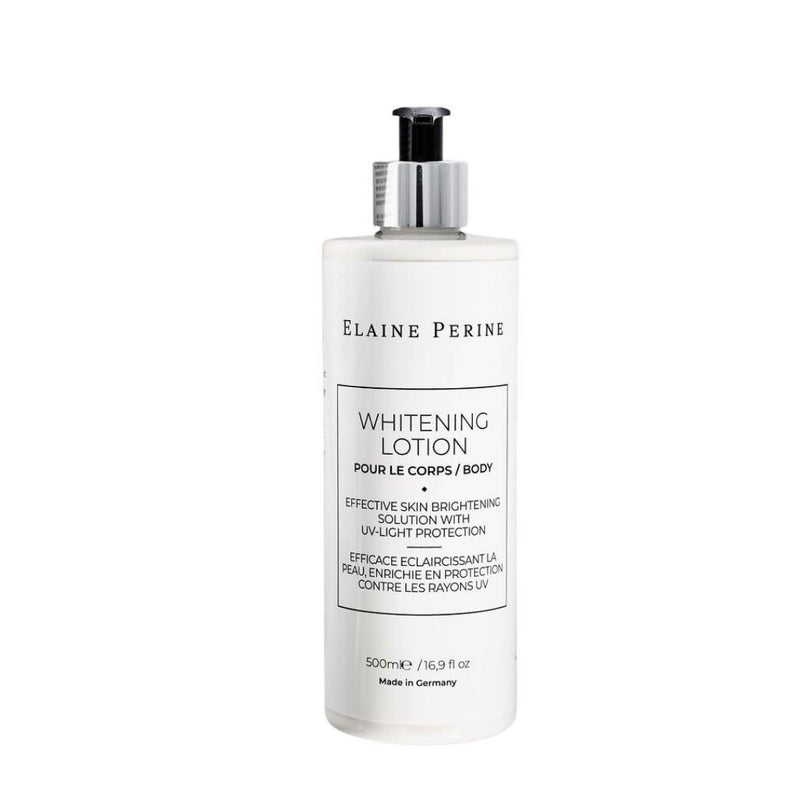 Whitening body lotion 500ml
You are a fan of our skin whitening body lotion? Then you'll get your money's worth with our 500 ml Whitening Body Lotion! Because with the cream in advantage size you save yourself a fabulous 31€!

Our Whitening Body Lotion offers a great way to gently get rid of uneven pigmentation and annoying skin discoloration. It is made of 100% natural, plant-based active ingredients and is absolutely gentle on your skin.

✓ Inhibits pigmentation in the upper layer of the skin and evens out the skin tone.

✓ Treats melasma, scars, freckles, age spots, dark spots, hyperpigmentation and other skin discolorations.

✓ Lightens armpits, knees, elbows and inner thighs and is excellent for holistic application or targeted lightening of specific skin areas.

Thanks to the addition of AHA, it gently removes dead skin cells so that the brightening active ingredients can better penetrate the skin surface. By inhibiting melanin production, Niacinamide provides an additional booster! Declare war on sallow skin once and for all with this dermatologically tested skin whitening lotion and save yourself expensive treatments at the spa. Because with the Whitening Body Cream you can achieve a perfect result in the comfort of your own home!

You can find the exact details further down on this page!
In stock
Lotion & Feuchtigkeitscremes
Elaine Perine UK
K327208
The skin is the largest organ in our body and its texture affects how we look. Some people are born with blotchy or uneven pigmentation, while others acquire it over time through sun exposure or injuries that result in dark spots. Textiles rubbing against sensitive areas can also cause dark patches in certain areas such as the armpits or inner thighs. A common cause of hyperpigmentation is hormonal changes during pregnancy, birth control pills or menopause. Some women also suffer from redness or discolouration due to very dry skin or inflammation. The appearance of skin discolouration can vary depending on the individual skin condition.
No matter what type of pigmentation affects your skin, our Brightening Body Lotion is the perfect solution! It makes your skin glow with all-natural, 100% vegan ingredients for a healthy glow! And it's completely free of side effects*. The Whitening Body Cream has been carefully formulated to comprehensively care for, brighten, nourish and protect your skin. The lotion is quickly absorbed and leaves your skin feeling soft and silky. With regular use, you'll notice a visible improvement in your skin's appearance. Start your journey to an even, nourished complexion today!
The deep-acting formula contains carefully selected, all-natural and botanical ingredients:
Alpha-Arbutin: Lightens pigmentation spots and evens out unwanted hyperpigmentation.
Niacinamide: Improves skin elasticity and moisture content, evens out imperfections and restores radiance to dull skin.
Liquorice Extract: Soothes and protects the skin.
AHA: Gently removes dead skin cells to allow skin-brightening ingredients to better penetrate the skin.
Vitamin C: Makes the skin look brighter, smoother and more even.
Vitamin E: Nourishes and protects the skin and promotes skin regeneration.
Titanium dioxide: Prevents sun damage while providing SPF protection.
To give your skin the care it deserves, our Whitening Body Cream contains
shea butte
r, an exceptional natural oil that has been used by African women for centuries. Its unique properties make it ideal for keeping your skin soft, supple and nourished. It is also an excellent sunscreen and helps prevent damage from UV rays. Shea butter is extremely rich in fatty acids and vitamins, making it an excellent moisturiser for dry or sensitive skin.
We want to make one thing very clear at this point:
White, fair skin is not a measure of beauty!
Our Whitening Body Lotion is designed to help women who feel uncomfortable in their skin due to blotchy skin and uneven pigmentation. The targeted application is designed to reduce dark spots,uneven skin tone and sallowness and provide smooth, radiant and even skin. Although our cream was not originally developed for this purpose, some clients are using it very successfully for holistic skin tone brightening. We believe that changing skin tone is a choice that every woman must make for herself -
Your Body, Your Choice! Every woman deserves to feel beautiful and beauty, as we all know, is the freedom of appearance!Easy to use:
Apply 2-3 pumps of Whitening Body Lotion to your body or affected areas morning and night.
Gently massage the cream into the skin until it is fully absorbed.
Use regularly for best results.



Contents: 500ml



* Dermatologically tested. Laboratory test showed no allergic reactions or skin irritations in the entire test group. ("In 30 subjects, the patch test results were negative (-), which means that the product does not cause any irritation or allergic reaction in these subjects", Aleksander Wroński, MD PhD).



Our brightening body lotion 500 ml is for you if:

You're looking for a body lotion that gently brightens your skin.
You are looking for a product without harmful chemicals and based on purely natural ingredients.
You are looking for a lightening cream without hydroquinone (hydroquinone can be toxic and is found in many skin lighteners).
A quick result is important to you.
You want a moisturising, nourishing lightening product with UV protection.
You are vegan and only use products that are not tested on animals.
You are so enthusiastic about our whitening cream that you want to order it right away in the cheaper advantage size.
Aqua, Isopropyl Palmitate, Caprylic/Capric, Triglyceride, Niacinamide, Glycerin, Cetearyl Alcohol, Ceteareth-20, Stearic Acid, Ceteareth-25, Dimethicone, Alpha-Arbutin, Butyrospermum Parkii Butter, Tocopheryl Acetate, AHA (Citrus Limon Fruit Extract), Glycyrrhiza Glabra Root Extract, Acrylates/Vinyl Isodecanoate Crosspolymer, Allantoin, Titanium Dioxide/CI. 77891, Isopropyl Alcohol, Phenoxyethanol, Ethylhexylglycerin, Sodium Hydroxide, Disodium EDTA, Alcohol, Parfum, Citral, Limonene, Linalool