.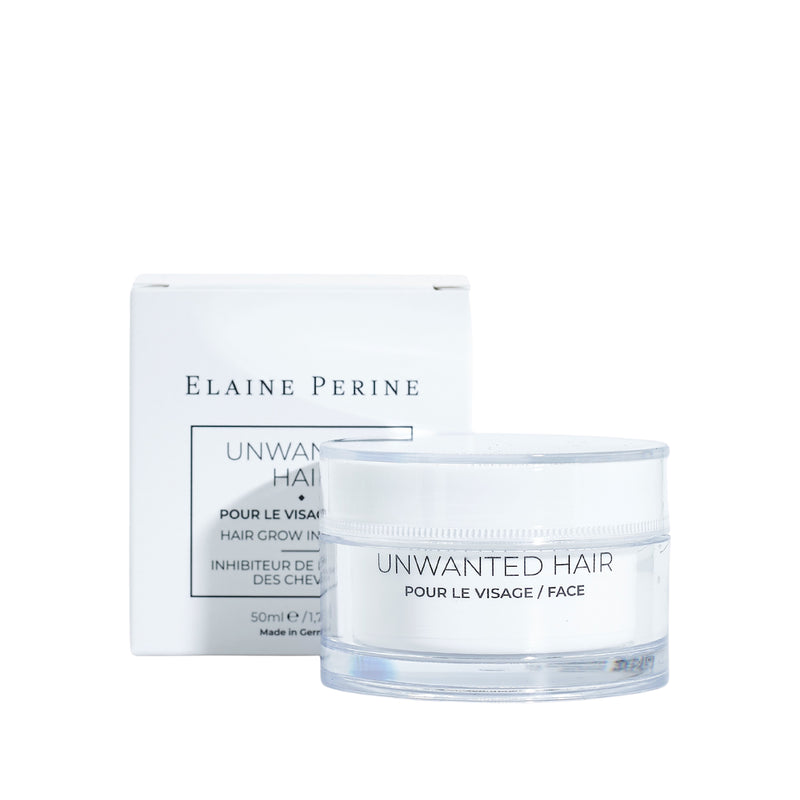 Hair Stop Facial Cream - UNWANTED HAIR FACE
UNWANTED HAIR FACE: face hair removal cream for painless and permanent depilation

Facial hair is an annoying and uncomfortable problem for many women. Whether it's the fine hairs on the upper lip or the thick stubble on the chin, there's hardly a woman who hasn't thought about how to remove facial hair. At Elaine Perine, we've strained our gray matter to bring you a product that makes quick and gentle facial removal possible - while containing only natural ingredients. So, how to reduce hair growth? If you're looking for a good facial hair remover cream, we recommend Elaine Perine Hair Stop Face Cream, which reduces facial hair thickness by 24% after 42 days and inhibits hair growth by 37% after 42 days.

✓ Removes hair and inhibits the growth of new hairs.
✓ Gets rid of peach fuzz
✓ Suitable for all skin types.
✓ Dermatologically tested
🌱 100% vegan, purely natural active ingredients and suitable for all skin types.
In stock
STOP HAIR GROWTH
Elaine Perine US
K326263US
What is the best facial hair removal cream? Our stop hair growth face cream: natural, effective, gentle
Elaine Perine has studied the various effects of face fuzz remover methods and developed a depilatory cream for the face to permanently get rid of facial hair. The hormone-free active ingredient formula of Hair Stop Cream Face contains carefully selected active ingredients consisting of natural and herbal ingredients. It works by changing the hair follicle structure, thus weakening it. Thus, it inhibits the formation of new hair and slows down the regrowth of hair at the root. It is also 100% vegan and suitable for all skin types. It removes hair on the chin, facial fuzz, lady's beard, regrowing eyebrow hairs and facial hair in general. So, what is the best hair removal for the face? Our Elaine Perine unwanted facial hair cream! 
Application of our permanent facial hair removal cream
How you apply the depilatory cream? It's simple:
First remove peach fuzz from the face by hair removal methods such as shaving, waxing, epilating or others. 
Massage the facial removal cream neatly on the desired area until it is completely absorbed into the skin. 
Gradually, the hairs will thin and lose density until they finally disappear completely. 
For best results, apply the facial hair cream twice a day after cleansing your face and before going to bed.
Where does hair on the face actually come from?
Hair on the face can come from a variety of causes, such as hormones, diseases, medications or genes. A peach fuzz on face is quite natural and can occur on any skin type. Nevertheless, there are many women who find a lady's beard annoying and want to stop facial hair growth permanently. There are various methods for facial hair removal. 
Ways to remove facial hair, you ask? One of the most common methods is shaving. It is the easiest and fastest method as a peach fuzz remover. However, it can cause the hair to grow back faster. Also, there is a risk of skin irritation and injury. 
Secondly, you can get rid of peach fuzz on the face by waxing. In this process, the hair is removed with the help of wax. This method of removing facial fluff is more effective than shaving and the hair grows back more slowly. However, it is also more painful and there is a risk of skin irritation and inflammation. Epilation also removes facial hair in a similar manner and carries similar risks.
But what is the best way to remove facial hair? Facial hair can be removed by depilatory creams - this is where we at Elaine Perine come in again. Because with our facial hair removal cream for sensitive skin you can also remove the lady's beard permanently, because the hair growth is inhibited. With regular use, the hair will not grow back at all. 
But is a depilatory cream really a good way to combat facial hairs? The use of facial hair reduction creams is actually one of the most popular methods among depilatories - because they work quickly, effectively and, most importantly, completely painlessly. 


Pamper your skin to the hilt - with Elaine Perine
Other best-selling hair removal products include Hair Stop body cream and Hair Stop facial serum. Also feel free to check out our facial care products and facial care sets. For deeper skin care, our facial serums are perfect. And if you also know the feeling that your impure skin never has an end, then you will find true miracle weapons for the care of impure skin with us.
Aqua Propanediol Dicaprylyl Ether Pentylene Glycol Saccharide Isomerate Alcohol Aloe Barbadensis Leaf Juice Simmondsia Chinensis Seed Oil Serenoa Serrulata Fruit Extract Epilobium Angustifolium Flower/Leaf/Stem Extract Cucurbita Pepo Seed Extract Sodium Hyaluronate Hydroxyethyl Acrylate/Sodium Acryloyldimethyl Taurate Copolymer Polysorbate 60 Sorbitan Isostearate Phenoxyethanol Ethylhexlyglycerin Parfum Potassium Sorbate Sodium Hydroxide Citric Acid Sodium Citrate Citral Limonene Linalool