Bodylotions
We developed our special body lotions to offer women a way to feel more comfortable in their skin through natural support. Daily use of our enhancement products will improve the overall texture of your skin. In addition, our body creams are natural moisturizers that leave your skin soft, silky and smooth.
ELAINE PERINE body lotions: Our secret weapon for soft and supple skin
Is there anything more beautiful than skin that is velvety and soft? ELAINE PERINE loves your skin! We believe that our largest organ deserves extra attention and care. Every day your skin has to deal with countless pollutants such as ozone, fine dust or exhaust fumes and is stressed by tight, rubbing clothing and more. But you can take good care of your skin when equipped with the right body lotion. Meet our body lotions!
✓ Smooth, firmer and well-groomed skin in no time
✓ Bye-bye orange peel skin thanks to natural cosmetics
✓ Natural active ingredients for immediate and sustainable effect
✓ 100% vegan, cruelty-free & dermatologically tested
Body lotions: Concentrated care for all-around beautiful, well-groomed skin
At ELAINE PERINE, we've put together a huge range of organic body lotions to pamper your skin from A to Z and to provide it with everything it needs. So if you're looking for the right body lotion, you've come to the right place.
ELAINE PERINE is your beauty partner for the best body care for your skin. Our vegan body lotions and body creams are not only intensely nourishing and protective, but also dermatologically tested. They are free of side effects, yet super effective.
Orange peel skin? Only in the fruit basket!
Meet the ADIEU CELLULITE body cream for firm skin. Annoying dents are a thing of the past. With our cruelty-free, vegan, anti-aging body lotion you care for and tighten your skin sustainably. It also breaks down fat cells and really gets the skin metabolism going. 
With our natural body lotion you are best equipped against unwanted body hair
As a hair growth inhibitor, our UNWANTED HAIR organic body cream ensures shiny skin and counteracts renewed hair growth after shaving or epilating. At the same time, you can use it like a moisturizing body cream, as it hydrates and smoothes your skin.
Body lotion for dark spots and lighter skin in no time
The skin whitening collection helps you get rid of small dark spots completely painlessly. Even though pigmentation spots and skin discolorations are common on the knee, under the arms, on the elbow or on the inner thigh, some women prefer to remove them. You can do that by using our lightening body lotion. The best part? It also helps against dry skin, because it contains nourishing shea butter, which has been used in moisturizing lotions for centuries.
By the way: If you are looking for a lightening cream for your face, feel free to check out our facial creams!
ELAINE PERINE: For that little push in the right direction
Skincare also includes our décolleté and bust. Our moisturizing, skin-firming creams, like our PUSH UP! body lotion plumps up the skin in the neckline. You can also use the body lotion very well after pregnancy or with asymmetrical breasts.
Meet the body lotion that shapes your silhouette: the SHAPE ME! body lotion. The natural ingredients in our vegan body lotion actively break down fat cells in the skin, ensuring that your skin is tightened in no time.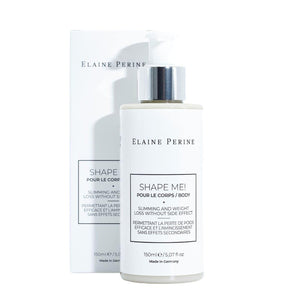 Body milk or body lotion - what's actually the difference?
When it comes to caring for our skin, there are many different products to choose from. Body milk and body skincare lotion are two of them that are often confused. Let us explain the main differences:
A body milk is usually thinner than a body lotion and usually contains less oil. It is therefore lighter and can be absorbed more quickly. Body milks also tend to have a higher moisture content, making them especially good for people who have very dry skin.
A skin lotion is usually somewhat firmer and contains more fat. It is therefore absorbed more slowly and leaves a light film on the skin. Body lotions are therefore particularly suitable for people who have normal to dry skin. They can also protect the skin from drying out and are therefore particularly suitable for use in winter or in dry areas.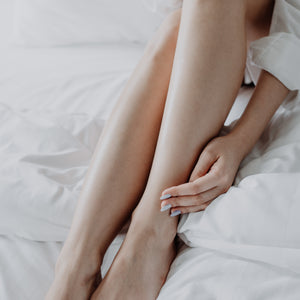 More wellness for your skin
But that's not all. You can pamper yourself even more extensively with our diverse body serums, which deeply nourish your skin with naturally active plant ingredients.
Also check out our various body skincare sets!
How and where to apply the body lotion correctly?
We recommend you to use a body lotion on your whole body regularly after showering or bathing. This will lead to a constant and maintained bodycare. Basically, you can use natural body creams twice a day:

Apply 2-3 pumps of the cream on the part of the body you want to care for.
Massage the cream into your skin thoroughly.
Wait until the body lotion is completely absorbed before getting dressed.
In order to find the best body lotion or body cream you'll have to identify your needs. For example, whether you want to get rid of dimples, tighten or moisturize. Your skin type also plays an important role here.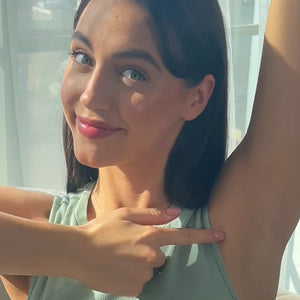 What is body lotion actually used for?
Using a body lotion is an easy and effective way to keep our skin in tip-top shape.
Here are five great reasons why you should use a body lotion:
Hydration: our skin needs a hydrating body lotion to feel smooth. A body moisturizer is the best helper to lock moisture into the skin and protect it from drying out.
Protection from environmental damage: the skin is constantly exposed to challenges such as sunlight, wind and cold. A body lotion can help protect the skin from these damages and help it stay healthy.
Improving skin texture: our body lotions contain ingredients such as vitamin E and collagen that improve skin texture and make it firmer.
Treatment of skin problems: there are special creams that aim to treat specific skin problems, such as acne, stretch marks or pigmentation spots. Or you can use a brightening body lotion, a firming body cream or a lotion for hyperpigmentation on specific regions.
Self-care & luxury: using a body cream can also be a wellness routine that helps us feel comfortable and relaxed.
With Elaine Perine, you'll enjoy all of these benefits and more. Discover our products now!