.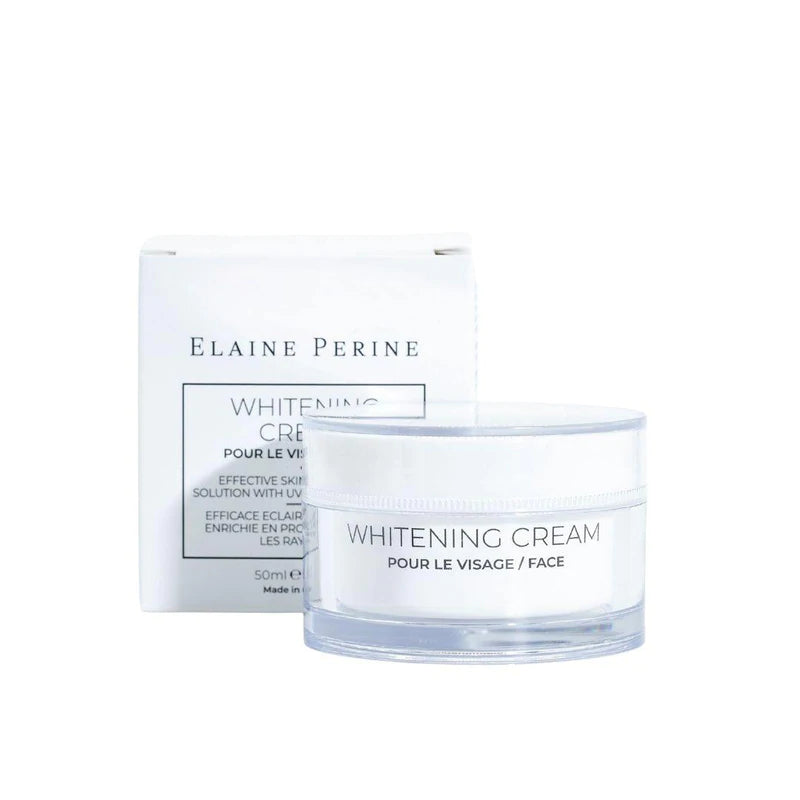 Whitening Facial Cream with Retinol & EAC
Unsere intensiv aufhellende Gesichtscreme mit LSF besteht aus 100 % natürlichen, pflanzlichen Wirkstoffen und ist absolut sicher in der Anwendung auf Ihrer Haut. Ihre Besonderheit ist die mit Retinol und EAC angereicherte Formel. Retinol entfernt sanft abgestorbene Hautpartikel, damit die hautaufhellenden Wirkstoffe besser in die Haut eindringen können. EAC ist für seine depigmentierenden und alterungshemmenden Eigenschaften bekannt und sorgt für einen zusätzlichen aufhellenden Verjüngungseffekt.

Dieser sorgfältig entwickelte Wirkstoffkomplex liefert klare und sofortige Ergebnisse:

✓ Hellt die Gesichtshaut gleichmäßig auf und hilft gegen Hyperpigmentierung
✓ Wirkt gegen Melasma, Narben, Sommersprossen, Altersflecken, dunkle Flecken, Hyperpigmentierung und andere Hautverfärbungen.
✓ Spendet der Haut Feuchtigkeit, stimuliert die Zellregeneration und verzögert den Hautalterungsprozess.
✓ Hilft bei der Beseitigung von Hautunreinheiten.
In stock
WHITENING FACE CREAM
Elaine Perine US
K326294DE
What better way is there to clean and clear your face of blemishes than the Elaine Perine face whitening cream? Its formulation consists of 100% plant-based ingredients that have been tried and tested to be effective at whitening the face. Licorice extract, for instance, is popular for its ability to fade dark spots and brighten the skin. Not to mention that it has been used for medicinal purposes for time immemorial.
HIGHLIGHTS Lightening Cream
This face lightening cream is vegan-friendly
It has not been tested on animals
Comes in a small container but a little goes a long way
Moisturizes and repairs damaged skin
Brightens the skin by 26% after 9 days of regular use
This face lightening cream is made to fade away dark spots quickly within the first two weeks of regular use. You can use it both on your face and neck to achieve evenly smooth, supple, and light skin in no time at all. Besides, this bleaching face cream is backed by a full-refund policy that ensures you get your money back if you don't see any results within the specified duration.
The deep-acting formula contains carefully selected, purely natural and plant-based active ingredients:
Alpha-Arbution: brightens the skin and evens out unwanted hyperpigmentation.
Ayurvedic stonewort: reduces melanin transfer. And thus minimises hyperpigmentation.
Retinol: improves uneven skin tone and restores radiance to sallow skin.
EAC: Improves the complexion and gives the skin an even tone.
Liquorice extract: suppresses the formation of new melanin.
Vitamin B5: Strengthens the skin's barrier function and prevents moisture loss.
Vitamin E: moisturises and promotes skin regeneration.
Titanium Dioxide: prevents the treated skin areas from darkening again quickly and provides UV protection.
We would like to make one thing absolutely clear at this point: White, fair skin is not a measure of beauty! Healthy, radiant skin is. Our Whitening Face Cream is designed to help women who feel uncomfortable in their skin due to skin discolouration and uneven pigmentation. The targeted application is said to reduce, dark spots, uneven skin tone and sallowness and provide smooth, radiant and even skin. Although not originally developed for this purpose, our cream has been used very successfully by some clients to lighten their faces. We think changing her skin colour is a decision every woman must make for herself - Your Body, Your Choice! Every woman deserves to feel beautiful and beauty, as we all know, is freedom in appearance!

Easy to use:

Use the cream twice a day, morning and evening after cleansing your face.
Spread a hazelnut-sized portion of the cream on your palms and massage it into your skin in circular motions.
Use regularly for best results. 
Contents: 50ml
* Dermatologically tested. Laboratory test showed no allergic reactions or skin irritations in the entire test group. ("In 30 subjects, the results of patch tests were negative (-), which means that the
product does not cause irritation or allergy reaction in those subjects.", Aleksander Wroński, MD PhD).

Item Form > Cream
Brand Elaine > Perine
Target Gender > Female
Quantity >50ml
Lemon extracts (citrus lime extract)
Licorice extracts (Glycyrrhiza Glabra root extract)
Shea Butter
Vitamin E (tocopheryl acetate)
Titanium dioxide
Aqua Caprylic/Capric Triglyceride Glycerin Alpha-Arbutin Hydroxyethyl Acrylate/Sodium Acryloyldimethyl Taurate Copolymer 3-O-Ethyl Ascorbic Acid Glyceryl Polyacrylate Propanediol Boerhavia Diffusa Root Extract Allantoin Panthenol Tocopheryl Acetate Phenoxyethanol Polysorbate 20 Isopropyl Alcohol Ethylhexylglycerin Xanthan Gum Polysorbate 60 Disodium EDTA Sorbitan Isostearate Sodium Citrate Citric Acid Parfum Citral Limonene Linalool