Natural breast enhancement
Sorry, there are no products in this collection
PUSH UP PRODUCTS
BREAST ENHANCEMENT
A supple, visibly smoothed, plump and even skin with a healthy glow! That's exactly what we want. Because when your skin glows, you glow right along with it. If it's healthy and clean, you'll be more confident, because you'll feel good in your skin and won't have to worry about blemishes or anything else.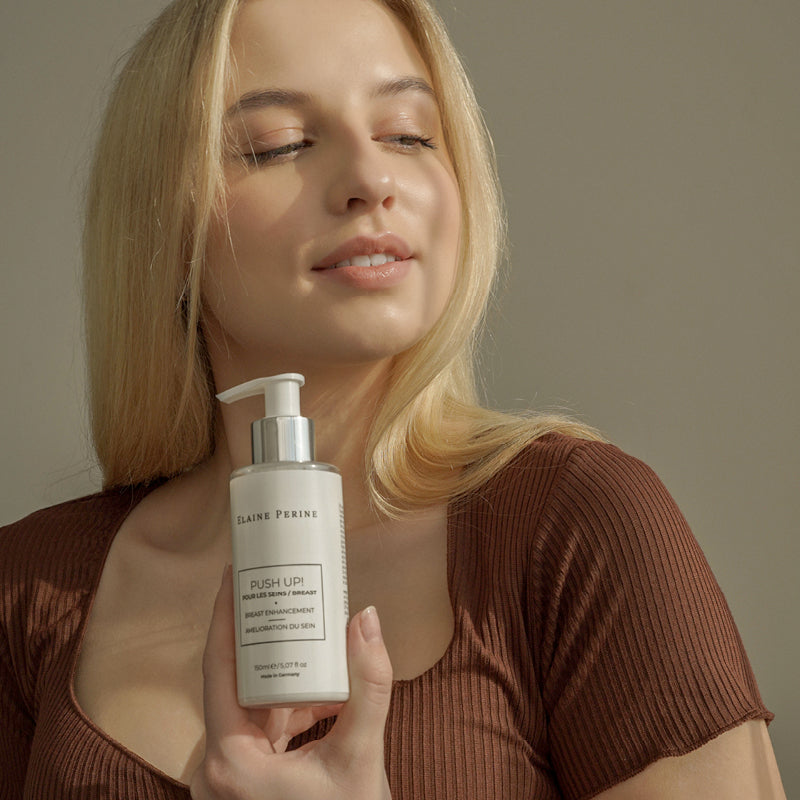 Our "Push Up" breast care products provide a fuller, lifted breast in a 100% natural way. With an innovative formula of herbal and plant extracts, our breast enhancement products are proven to maximize the breast size step by step. Thanks to the natural active ingredients, our breast care products are completely safe to use. They are dermatologically and gynecologically tested and do not cause any side effects.
OUR BREAST ENHANCEMENT COLLECTION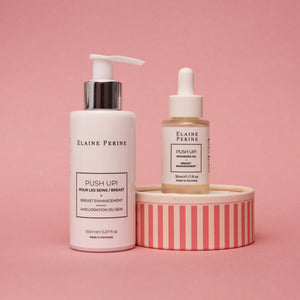 PUSH UP SET - Serum + Lotion
Are you looking for a natural way to quickly whiten your intimate area? Then our Intimate Whitening Booster Serum is just the right product for you! It is made from 100% natural, herbal ingredients and is absolutely safe to use on your sensitive, intimate body parts. Our serum is the perfect solution for anyone who wants to lighten their pubic area from the comfort of their own home. With Elaine Perine, you can save yourself the unpleasant trip to the beauty salon and perform intimate lightening undisturbed in the privacy of your home bathroom: In just a few weeks*, completely painless, discreetly at your home and without medical intervention! For optimal results, our lightening intimate care serum contains over 48% natural active ingredients for targeted skin lightening:

✓ Up to 55% lightening in 9 days.
✓ Best results with recommended use of 30 days.
✓ Vegan,animal-free & gynecologically tested.
✓ Hydroquinone free and suitable for all skin types.

So why wait?
Get our intimate bleaching experience at home!
BREAST ENLARGEMENT Cream
Age with pride! Just because we're getting older doesn't mean we should neglect our skincare routine. The visual effects of aging are natural. However, with our skincare products, you can equip your skin with everything it needs to get the most out of it during this phase of life. Thanks to modern anti-aging or well-aging products, this has become easier than ever. Our innovative vegan face care line works by stimulating collagen production in the skin, fighting oxidants that can lead to early signs of aging, and promoting the formation of proteins that contribute to healthy skin function. In other words, our facial care for mature skin against wrinkles not only helps to slow down the signs of aging, but also to minimize those that are already present. If you want to counteract the signs of time in a natural way, you've come to the right place!