Anti Acne skincare for face
Sorry, there are no products in this collection
Best acne skincare for breakouts: Goodbye blemished skin, hello clear skin!
Welcome to the world of flawless, glowing skin! We all know that feeling of struggling with acne and blemishes. So let us take you on a journey to healthy skin. With us, you'll find the perfect solution to blemished skin. With our vegan skincare line for teens and adults, we'll get your skin in its best shape. Let's get rid of the insecurities together and let your natural beauty shine – with ELAINE PERINE acne skincare.
✓ Serums, spot creams for face and convenient kits
✓ 100% vegan and cruelty free
✓ All-natural active ingredients
✓ Dermatologically tested & proven to be effective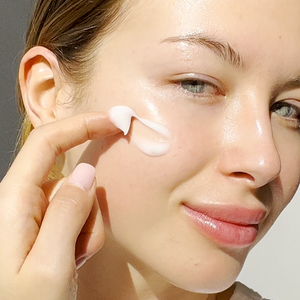 Your skin deserves only the best: Meet our acne clearing products.
Radiantly beautiful and healthy skin is the dream of every woman. Therefore, many wonder how to get rid of acne, which acne skincare works best and how to treat blemished skin. To get rid of blemishes and prevent breakouts, it's crucial you choose a facial care that contains gentle but effective, natural ingredients. This way, you'll keep your skin clear, healthy, and hydrated. Our skincare helps you get rid of spots without damaging or irritating your skin. Our gentle skincare products for acne scars and against pimples contain a combination of natural active ingredients that have been dermatologically proven to clear your skin. The best part of it? Our products are suitable for almost every skin type.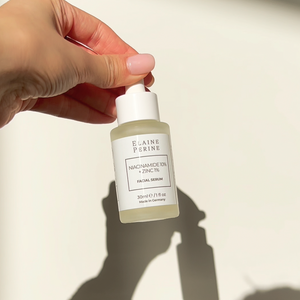 Skincare for hyperpigmentation: Facial serums for a blemished skin
What's the best spot cream for your face? Our anti-pimple serums and creams help against impure skin. For effective and deep-acting anti-acne skincare, we recommend our face serums, which not only remove impurities, but also prevent new pimples, acne or blackheads from appearing. Serums are proven to be the best suited anti-acne product as they can deliver ingredients deeper into the skin.
Have you discovered our niacinamide 10% + zink 1% serum yet? It's composed of natural ingredients and works quickly and effectively against blemished skin. Your skin becomes more even, day by day.
Our retinol serum with vitamin A & hyaluron also fights blemished skin. It acts as a moisturizer for spots and gives you an all-round radiant complexion. The best part? It also reduces fine lines, plumps up the skin and increases collagen production. You can use this facial care serum for blemished and/or mature skin sparingly once a day.
Our peels against blemished skin: Gentle, yet so effective
Discover our fruit acid peel AHA 30% + BHA 2%! The glycolic acid fights against spots and unfolds its full effect with weekly use. The "smoothing" peeling also reduces clogged pores and small wrinkles – that's why it's one of our favorite products! 
Our skincare acne cream leaves your skin glowing
Are you always struggling with pesky facial hairs or other body hair and looking for a sustainable solution? Ingrown hairs can also be an added burden, as they too can lead to pimples and inflammation on your face. Elaine Perine's hair stop face cream includes a formula that conditions and protects your skin against pimples and acne while inhibiting hair regrowth.
By the way: our hair stop serum also contains the same active ingredient in an even more concentrated form.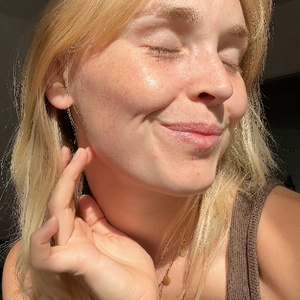 Achieve well-groomed skin with our practical facial skincare sets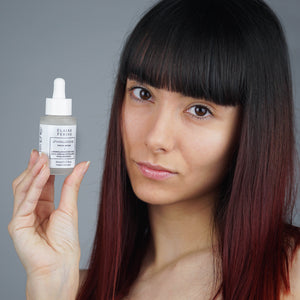 Natural all-round care for your skin – best way to get rid of acne?
For even more care and a feeling of well-being, in addition to the skincare products for acne or dark spots, the Hyaluron serum by ELAINE PERINE also does its magic: this acne face moisturizer is perfect for dry skin and reduces wrinkles.
Also check out our products for hyperpigmentation or our dark spot cream for treating spots on the face. However, if you are looking for a caring and protective serum that will give your complexion a natural and individually determined tan, we recommend our self-tanning drops concentrate for an even complexion.
The optimal facial skin clearing products and care for blemished skin
Before starting your blemished skincare routine, it's important to find out what type of skin you have on the affected area. Wash your face with your chosen cleanser for blemished skin and then wait for 1-2 hours. After that, you can determine whether you have oily skin, dry skin or a combination of both. 
You can use our serum 2-3 times a week at first and then slowly increase. 
You can use our peeling twice a week to free your skin from excess sebum and clogged pores.
Our

facial anti-spot cream

can be applied twice a day, preferably after getting up and before going to bed.
Where does blemished skin actually come from and what are reasons for bad skin?
Acne is not easy to treat but do you know what actually causes blemished skin on the face? Pimples and impurities of the skin often depend on a wide variety of influencing factors. Adolescents are often the most affected during puberty. Our lifestyle, diet, hormones but also our genes have an influence on our skin.
But there is good news: blemished skin is only temporary. It can get better with time and even disappear completely in the end. Till then, we are happy to help you with our skincare products! To fight acne and maintain healthy skin, you need the right facial skincare for blemished skin, acne products, targeted treatment and possibly even medical support – whether it's for your face or other areas of the body, such as the back or decoleté. For that, we provide our body acne cream.