Pampering vegan face creams by ELAINE PERINE for natural facial skin care
Sometimes it seems like your skin works against you. Hormonal breakouts occur, your puffy eyes reveal how little sleep you got last night, or you look in the mirror one day and suddenly notice sagging spots or wrinkles. No matter what skin problem you might have, our high-quality facial creams will help you maintain the overall beauty and health of your skin and get rid of acne, heavy hair growth, scars, wrinkles and dark spots.
✓ We care for and nourish your skin from A to Z
✓ Natural ingredients, dermatologically tested
✓ Vegan face creams, 100% cruelty-free
✓ Suitable for all skin types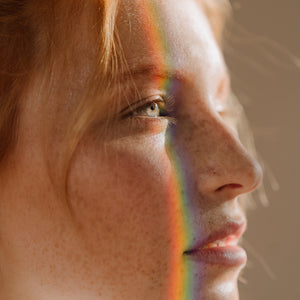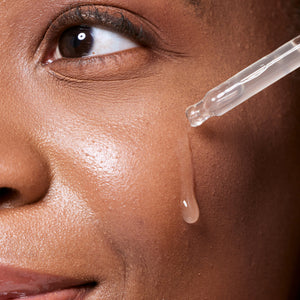 The right facial care for your radiantly beautiful skin
Facial skin care is an important part of our daily beauty routine. A good facial care for women can help our skin look healthy and radiant. This makes us feel confident and good about ourselves. One of the most important components of facial care is the use of effective yet natural skin creams.
So, which face cream is the best for facial skin care? When choosing a good facial cream, you should always consider the individual needs of your skin. Everyone has a different skin type. That's why it's important you find out what yours is - whether you have dry, oily or sensitive skin.
In any case, we recommend that you choose a day cream with natural ingredients, as they are less irritating to the skin and are absorbed more quickly. Some of the best facial creams contain the active ingredients vitamin C and vitamin E, hyaluronic acid, aloe vera and shea butter. These ingredients can help hydrate, smooth and protect your skin.
But which face cream should you use? The innovative and natural ingredient formula in ELAINE PERINE's vegan facial creams ensures that your skin is sealed with sufficient nutrients while restoring healthy skin and protecting it from pollutants. All of our face creams are cruelty-free and dermatologically tested. In addition to our face creams, we also have deep-acting facial serums, which are available either individually or in practical facial care sets.
Moisturizing face cream for dry skin
Looking for a facial cream that's vegan, effective and hydrating for dry skin? What you need is a moisturizer or a hyaluronic cream. A facial moisturizer usually contains moisturizing ingredients that can help retain moisture in the skin and soothe any skin damage that has occurred. How about a hydrating face cream that moisturizes and inhibits hair growth on your face at the same time? Our UNWANTED HAIR face cream does just that. With its nourishing properties, it helps to remove small annoying facial hairs and gives your skin the moisture it needs.
Or what about our hyaluronic serum? With its highly concentrated and natural active ingredient formula, your skin cells are moisturized from the outside and the moisture is kept inside. If your dry skin is already cracked open, we recommend our couperose serum, which visibly reduces redness and restores healthy skin with its unique ingredients.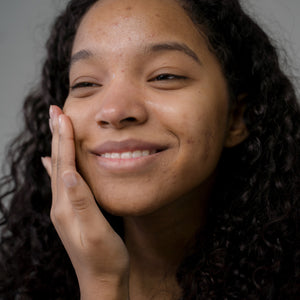 Our effective and gentle cream for blemished facial skin
Which face cream is best for daily use? To choose the right facial cream for clean skin it's important that you understand exactly what type of skin you have. A good cream against pimples should then contain an antibacterial, soothing effect and gently nourish the skin.
At ELAINE PERINE, you can find intensively nourishing face serums such as the retinol serum, the hyaluronic serum, the niacinamide 10% + zinc 1% serum or our fruit acid peeling AHA 30% + BHA 2% for the perfect face care and blemished skin. You can use them separately or in a facial care set. Make sure to try out our pure skin face cream set with the niacinamide serum and hyaluronic serum - the ideal bundle to effectively and specifically eliminate pimples, reduce pores and soothe an irritated skin.
The vegan skin cream for the face and an even glow
An even complexion is the dream of many women. Unfortunately, pigmentation spots are often an obstacle. But with the right facial cream for pigment spots, flawless skin is eventually possible. With our vitamin c skin care cream for your face, you can say goodbye to those annoying dark spots. The anti-pigmentation face cream counteracts dark spots, hyperpigmentation, age spots, freckles, and more but also prevents the formation of new dark spots.
What about a product that additionally lightens your skin? Then our whitening face cream is the ideal skin care product for you. It's also available in the face whitening set. However, if you'd rather have a natural and individually determined tan, the ELAINE PERINE tanning serum is just what you need.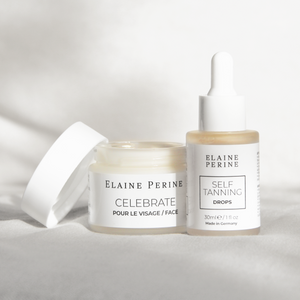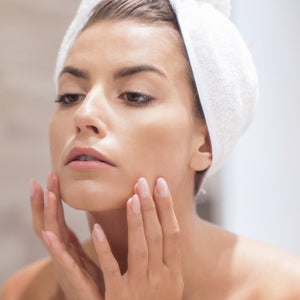 The optimal anti-aging facial care by ELAINE PERINE
Wrinkles are inevitable marks of time. However, with the right facial cream for mature skin, we can counteract aging and keep our skin looking fresh and youthful. But which cream is best for facial anti-aging care? One of the most important ingredients in anti-aging skin care is retinol. It's a form of vitamin A that stimulates cell regeneration.
If you're looking for an anti-wrinkle face cream that not only removes fine lines but also gives your skin a youthful and even glow, ELAINE PERINE's retinol serum is just what you need. The skin-firming and face brightening cream inhibits pigmentation, while retinol delays the skin's aging process.
Our collagen face serum also effectively eliminates fine and deep wrinkles. With our anti-wrinkle eye cream you can specifically reduce wrinkles, dark circles and puffiness under your eyes.
We have it all - whether you want to buy our products separately or in bundles. The anti-aging face care set with the retinol face serum and hyaluronic acid face serum provides more elasticity, while hyaluronic acid is a perfect face moisturizer.
Whatever your skin needs, make sure to discover all of our wonderful facial care sets at ELAINE PERINE.